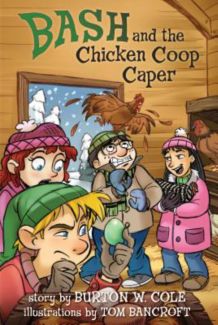 About Bash and the Chicken Coop Caper

Christian author Burton Cole and illustrator Tom Bancroft have brought Bash and his friends back for more colorful adventures. Their second novel, Bash and the Chicken Coop Caper, journeys through the wackiness that runs amok on Bash Hinglebobb's blizzard-blasted farm. There are mysterious footprints in the snow, vanishing mittens, misplaced eggs and a pink, purple and orange paisley sleeping bag on the move. Something is definitely amiss in the chicken coop.

While Bash is inventing such contraptions as a snowball catapult from inner tubes and underwear, his cousin Beamer Boxby, a city kid at heart, must help newcomer Lauren Rodriguez figure out why God lets horrible things happen to good people. Can Bash's Farmin' and Fishin' Book (the Bible) be believed when it says, "We know that all things work together for the good of those who love God?" What about when fire rolls through an animal building, or when a kid has lost her dad? It's time to find out alongside Bash and his friends—with a little help from an ice-skating pig, of course.
Start off a New Year with Bash and his friends. You'll not regret reading the fun antics that can come from a farm boy and his city slicker cousin. Cole has written his Bash and friends books based on his own childhood experiences. These books are a delightful read for middle age children. Bash and Beamer are cousins and find themselves in more trouble than doing good as their plans always seem back fire on them. This book Bash and the Chicken Coop Caper the boys try to do deeds the gives them fruit (Fruit of the Spirit), but trouble always lurks in the snow. It's a wonderful book to snuggle down with during a winter night or two or more....Depending on how many breaks you need to take. However, you'll find that you and your child won't want to take too many breaks because there is always an adventure waiting within the pages as you turn each page. I can't wait for the next book of Bash.... to come out spring of 2015. It can't come soon enough.
Learn more about this book
here
.

About the Author
Author and humorist Burton W. Cole is a Pulitzer Prize-nominated journalist with 30 years of experience and more than 50 humor writing awards to his credit. Even at an early age, Cole found appreciation in the combination of reading, writing and a creative sense of humor. He is now on a mission to shed some faith-inspired light on difficult topics for kids through art and colorful characters.
A copy of this book was provided in exchange for my honest review by...