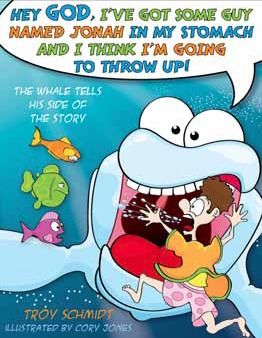 And now we hear the rest of the story...well the story from another prospective. Mr. Schmidt has taken it from the whale's point-of-view in his cute children's book,
Hey God, I've Got Some Guy Named Jonah in my Stomach and I think I'm Gonna Throw Up!
...long title yes, but cute book. This is the first in Schmidt's series but not the last, other titles include
Hey God, Can You Stop the Rain so I Can Get off Noah's Smelly Ark? and
Hey God, I'm Having an Awful Vacation in Egypt Thanks to Moses!
You can find out more about them here. At the end of his book is a nice
"Parent Connection" feature to help you take the story further with scripture references and tips on how to talk with their children about what really happened.
I have been offered by FlyBy Promtions to giveaway a copy of this book to one of my readers so how about a giveaway. I'm going to make this easy...
Just tell me in a comment what was your favorite Bible story when you were a kid? Please US residents only. Be sure to leave a way of contact. Be sure to fill out the rafflecopter to be entered officially.
a Rafflecopter giveaway
Brought to you by B&H Kids, Available May 1, 2013. This book is just $9.99 and will entertain you and your kids! Available
here
.
I copy of this book was provided in exchange for my honest review by...