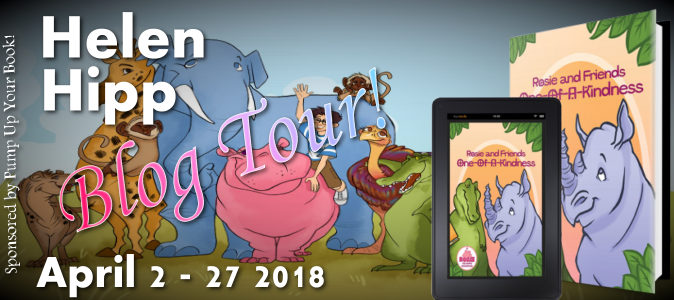 Inside the Book
Title: ROSIE AND FRIENDS: ONE-OF-A-KINDNESS
Author: Helen Hipp
Publisher: A Different Kind of Safari, LLC
Pages: 40
Genre: Children
BOOK BLURB:
Embark on a new safari with Hornsby the rhino as he comes face-to-face with losing his sense of belonging. No longer accepted by his herd, Hornsby searches for companionship. With the help of his new buddies, Hornsby learns that his life is one of a kind, and that spreading his kindness is a good way to make new friends!
I thought this Rosie book is an excellent tale for children on acceptance and showing kindness. With all the differences in our culture it is an wonderful choice book to help children learn this important skill. The illustrations are just right they set the mood and are big, bold, and colorful to keep a young ones attention. It is a good one to put in the classroom library for children to read over and over again.
Meet the Author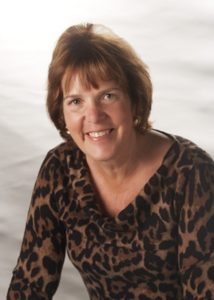 Approaching life with excitement and energy, Helen works hard to help people achieve exuberance! Born in Yonkers, N.Y., in 1959, Helen is the middle child of five. Her father, whose work demanded strong problem-solving skills and mother whose interest in art, provided Helen with endless opportunities to look at things from different perspectives.
Today, Helen continues to take advantage of an imaginative mindset that creates opportunities out of obstacles. A concept she fostered in her children, one of whom has special needs. As Helen explored career opportunities, she connected her personal experiences (parenting a child with special needs) with her beliefs, professional skills, and aspirations.
Helen received her M.A. in counseling and began her career as a psychotherapist to help people find answers for their life problems. Her work eventually evolved into a coaching practice, WithinU Life Coaching, focusing on helping individuals with special needs reveal their innate ability to solve difficult situations. Inspiration and fun, is Helen's motivation and her life's fuel.
Helen explains her enthusiasm as, "each day is an opportunity, waiting to be shaped and here I am, the sculptor who gets to do the shaping."
Helen has authored articles for Family Works and Washington Family Magazine and written multiple self-help articles published by ezine.com where she is viewed as an expert in her field.
In addition to her work, Helen has written two children's books creating a very effective way to motivate kids of all ages to meet their challenges with self-acceptance, confidence and understanding.
Her debut children's book,
A Different Kind of Safari
, released in 2013 addresses the many questions life asks by offering up lighthearted, ever-changing perspectives that transform personal challenges into opportunities. Once again, the engaging safari family led by Rosie the Pink Hippo inspire, and help you see your life differently in her new book,
Rosie and Friends Positively Different
. With a cast characters experiencing real-life issues, her books provide children with the opportunity to identify, understand and feel supported by the characters handling of similar fears, interests, and concerns.
Rosie and Friends Helping Children to Understand That Their Uniqueness Is Not a Weakness.
WEBSITE & SOCIAL LINKS: