Read to the end of this post this book has a giveaway.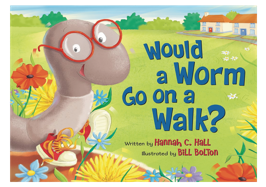 "Would a worm go on a walk, if you could lead him down the street? / Would he wear his tiny tennies, if he had two worm-sized feet?"
So begins this humorous and imaginative picture book that introduces children to the idea that animals are uniquely created by a loving and wise God.
Would a Worm Go on a Walk?
, with its colorful, comical illustrations, is a fresh, fun way to teach young children that God created all things very good. He gave all the animals, and children, too, wonderful qualities and unique strengths. Children will giggle over the ridiculous scenarios presented, and they will come away with the knowledge that we all are loved and special.
Format: Jacketed hardcover
Your youngster will be laughing as you read this rhyming book together. To picture a worm with tennies on or a pig playing the piano, or even a lion as a lifeguard, how absurd can you get? However, it'll grab and keep their attention and give you wonderful talking power for bringing God's creation into your conversation. You'll enjoy laughing along with your toddler as you turn each page of the book. The illustrations are just as charming and eye appealing as the rhyming meter. Bold, bright and colorful to grab even the youngest of the group. The worm on this cover and his animal friends throughout the book will walk right into your child's heart and make this book a well loved and asked for book.
Find out more about this book here.
Hannah C. Hall is the author of best-selling children's books, including God Bless You and Good Night and God Bless Our Christmas, as well as an award-winning blog, HannahCHall.com. Hannah lives in Prairie Grove, AK with her husband, Josh, a worship pastor, and their four children.

Would you like to win a copy of this book? Please leave a comment telling me who you'd like to share this book with? Please make sure you leave a way of contact as well, otherwise I have to pick another winner if I don't have contact information. Giveaways are open to the U.S. and Canada. I'll pick a winner for this book on Saturday, June 9th.
"Disclosure (in accordance with the FTC's 16 CFR, Part 255: "Guides Concerning the Use of Endorsements and Testimonials in Advertising"): Many th
anks to Propeller Consulting, LLC for providing this prize for the giveaway. Choice of winners and opinions are 100% my own and NOT influenced by monetary compensation. I did receive a sample of the product in exchange for this review and post.
Only one entrant per mailing address, per giveaway. If you have won a prize from our sponsor Propeller / FlyBy Promotions in the last 30 days, you are not eligible to win. Or if you have won the same prize on another blog, you are not eligible to win it again. Winner is subject to eligibility verification."
A copy of this book was provided in exchange for my honest review by....