Today I'm shinning the spotlight on author Mahamad Ali ElFakir's books. I have reviewed his following three books and they are perfect for young readers that about read to step into chapter books. They are picture books but have longer text between the picture pages. I loved all three of the books. They are very cute books with story lines that are easy to follow. They will go into my classroom library. The Ancient Secret of the Leprechauns is a very cute book so I thought I'd spot the light here since tomorrow is St. Patrick's Day.
" The Ancient Secret of the Leprechauns has been a childhood vision that's finally coming to life", says the author.
Find out more about Secret of the Leperchauns
here
.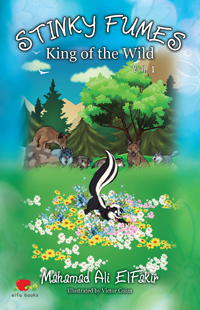 IT'S PARTY TIME-COME JOIN THE WILD ADVENTURE!!! Pepper the skunk is looking forward to the annual meet and greet party, where every skunk in the forest gathers to watch the new skunks spray for the first time. Pepper is ready to show off his first spray in front of everyone—but things don't exactly go as planned! Pepper is embarrassed and upset to discover that he is different from all the other skunks. He worries that this means he is not a true skunk, but when his friends and family are faced with the threat of coyotes, Pepper realizes that being different can actually be a great thing. Join Pepper in his heroic adventure to try to save the skunks of the forest from coyotes. Will his differences help him or cause him to lose the battle? Find out in Stinky Fumes—a fun-loving and exciting adventure that reminds us how unique and wonderful we all are.
Learn more about Stinky Fumes
here
.
Blueberry Bubble Gum was inspired by the author's children and is his first of many books to come. He says, "A child's imagination can inspire anyone."
Learn more about Blueberry Bubble Gum
here
.
Mahmad Ali ElFakir was born in Detroit, Michigan in January of 1975. He is an entrepreneur who works hard for his family. He is blessed with his wonderful wife and amazing children.
A copy of these books were provided by
Bostick Communications
in exchange for my honest review.