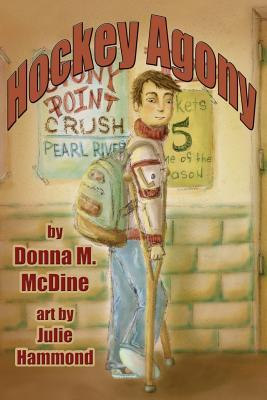 Title
: Hockey Agony
Author
: Donna McDine
Publisher
: Guardian Angel Publishing
Pages
: 25
Genre
: Children's Picture Book
Peer Pressure and Honesty many times go hand-in-hand. What is Larry to do when his teammate asks him to cheat when he is given the responsibility to run the clock during the big hockey game? Outwardly, it may seem he will follow suit, but his conscious tells him otherwise at the moment of truth.
Donna McDine's book Hockey Agony is just the book for a young reader that is interested in sports especially the hockey lover. It is also a good book to use if you want to talk about honesty, peer pressure, attitude, respect or responsibility. These are all good themes that the author has incorporated into Hockey Agony. I felt this book was very well written and the message is right to the point. It was a book that kept me wanting to see what was going to happen. It was very well paced in plot, not too slow. I have read many of McDine's books this is at top of my favorites of hers. Yes, I highly recommend this book.
a pdf copy of this book was provided in exchange for my honest review by....