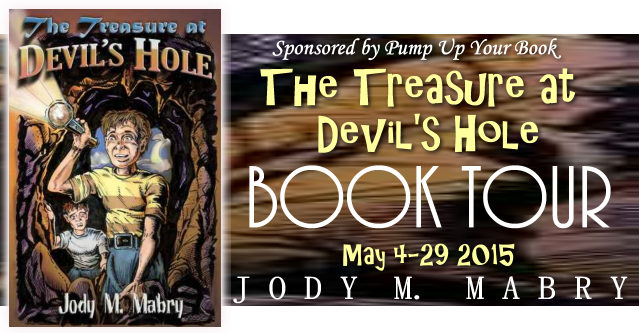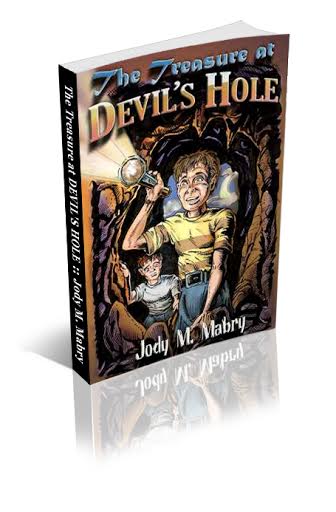 Title
: The Treasure at Devil's Hole
Author
: Jody Mabry
Publisher
: Maybury and Gilliam Literary
Pages
: 220
Genre
: Middle Grade Children's
Format
: Paperback/Kindle
How would you feel if you knew you had a legendary treasure right in your own back yard? Francis "Bug" Mosser knows, and will do nearly anything to find it, even if it means defying the most villainous person he knows—Mom!
Standing in Bug's way is his nemesis Tad Pricket, the red headed, pock-holed bully who's suddenly been seen walking Bug's girl, Melanie, home from school—worse, the walk ends with a kiss. Then there is the mysterious bald stranger and Miss Julia Brandon's boyfriend who seems a little "too-classy" for the town of Possum Trot.
With the help of his brothers, and best friend Billy—along with his not-so-secret desire to impress Melanie Grainger—Bug goes off in search of fortune and glory, thwarting bad guys, stolen clothes, and explosions to find the one surprise about the treasure that he would have never dreamed of…
"Jody M. Mabry's "The Treasure at Devil's Hole" is a refreshing return to classic adventure, a genuine stand-out among modern YA fare. It calls to mind works such as "The Adventures of Tom Sawyer," right down to the requisite treasure hunting, villains, expansive caverns, complicated young love, and rule-breaking exploits intelligent, free-spirited boys simply can't resist. Well written and wonderfully paced, it keeps you on the edge of your seat from start to finish, with a clever resolution you never saw coming. I found this to be a delightful read, and in fact completed the book in one sitting, unable to put it down. Looking forward to Mabry's next work, I hope one is in the works." – Amazon reviewer
For More Information
The Treasure at Devil's Hole is available at Amazon.
Discuss this book at PUYB Virtual Book Club at Goodreads.

I enjoyed reading this adventure with Bug and his gang as they do want all boys like to do. A beautiful summer read-along that I just might have to share with the students I will have in my summer school class. The author keeps you on your toes and wanting for more. There are so many places to stop and wonder and let the students want to return to the book. If there was one thing I would change about the book would be some of the words. I do not use curse/slang word; however, there were a few sprinkled throughout the 213 pages of the book.
(See my view on words here.)
It wasn't bad and much, but if you want a book with none then I must make you aware they are there. The Treasure of Devil's Hole will capture almost any middle school aged, adventurous student. It's a book you are bound to get lost in.


Born at Great Lakes Naval Base in Illinois, Jody has had the opportunity to live in places such as Cuba, St. Croix USVI, Mississippi, Illinois, and Kenosha, Wisconsin, where he spent the teen years of his life in an 1800's farmhouse that was, of course, haunted. At fourteen Jody first heard the story of Arizona's "Lost Dutchman Mine," sparking an interest in adventure, ghost towns, and lost treasure. Always prone to telling a good story, Jody now passes on the tradition to his children who will no doubt find their own treasure someday. Jody and his family live in the charming Linden Hills neighborhood of Minneapolis, Minnesota.
His lastest book is the middle grade novel, The Treasure at Devil's Hole.
For More Information
a copy of this book was provided in exchange for my honest review by....